In the desert, about 30 miles southeast of Tucson, a dusty traveler can look up to gaze at the ridge line of the Santa Rita Mountains. Following the slope of the mountains down to the base, one's line-of-sight might become interrupted, not by the palo verde and mesquite trees that stand quietly in the evening light, but by the remains of a single, nearly eroded adobe wall.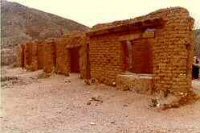 One lonely, bullet-ridden wall as sole proof that a thriving copper town names Helvetia once stood there.

Today, only a few scattered remnants remain. Once referred to as the "boom town of the Santa Ritas", one mining company, the Helvetia Copper Company of New Jersey, alone employed over 500 men. Helvetia nearly went under in 1883 with a large drop in copper prices. The invention of the light bulb by Edison brought higher prices and Helvetia was once again booming.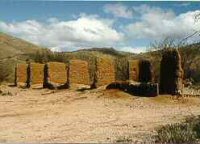 Over 120 years ago, in 1891, the now ghost town of Helvetia was founded to support these copper mines. Eight years later, on December 12th, 1899, the post office was established. Helvetia's population was mostly Mexican, about 300 of them. A 150 ton copper smelter worked from the mines, but was twice shutdown and abandoned by the copper mining companies owning the rights to the mines. Finally, a depression in 1907 struck the final blow and by 1911, the mines were shut down for good by the Arizona Development Company.

22 years and 19 days after the post office put the town on the map, the fate of Helvetia as a ghost town was sealed as the doors to the post office were closed for one last time. Although the town was abandoned completely by the town fathers 2 years later in 1923, the stories, and the legends of Helvetia live on!